This page refers to an older version of the product.View the current version of the online Help.
Console
The Environment Manager Console launches from the start menu:
Start > All Programs > Ivanti > Environment Manager > Environment Manager Console.
When accessed in this way the console opens with an empty and untitled configuration. The console also starts when a saved configuration is opened.
There are three variants of the Environment Manager console:
Personalization

- Installs only the personalization element of

Environment Manager

Policy

- Installs only the policy element of

Environment Manager

Both consoles

- Installs the combined console; both personalization and policy are installed.
The choice of which console to install is made during installation.
Elements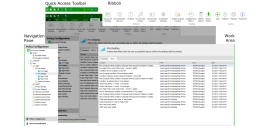 Resolution
Recommended screen resolution for the console is 1024 x 768 pixels.
Installing the Consoles
The traditional Environment Manager installation, using Setup.exe, automatically installs the combined console. Some administrators may not require access to both. For example, they may only be responsible for configuring personalization and have no need for the policy side of the console. Installing the Personalization or Policy consoles can only be done using the EnvironmentManagerConsole MSIs.
For more information about installation, see the User Workspace Manager help.
Ribbons
Ribbons include buttons for performing actions, arranged in groups, according to the area of the console to which the actions relate. For example, the Edit ribbon page includes all common tasks, such as Cut, Copy and Paste.
Split ribbon buttons contain multiple options and are indicated by an arrow just below the button. Click the arrow to display and select the list of options, or simply click the button for the default action.
Help
The Help button on the Help ribbon launches the Help for the product and displays the topic relating to the current area of the console in view. A smaller icon for launching the Help displays at the far right of the console, level with the ribbon page tabs.
Navigation Pane
The Navigationpane consists of the navigation tree and navigation buttons. The navigation tree is the area for managing nodes of the configuration. The navigation buttons allow you to view the different areas of the console, i.e. the Policy Configuration and User Personalization.
Work Area
The Work Area provides the main area for managing the settings of the configuration and product. The contents of the work area vary according to the selected nodes in the navigation tree and the selected navigation buttons. Sometimes the work area is split into two panes. For example, one pane can provide a summary of the settings in the other pane.
Additional Console Features
Shortcut Menu

— right-click shortcuts are available in the navigation tree and some areas of the console.

Drag and Drop

— this feature is available in some nodes of the navigation tree.

Cut/Copy/Paste

— these actions can be performed using the buttons in the

Edit

ribbon, shortcut menu options and also using keyboard shortcuts.
Related Topics