File Director
Uploads and downloads
Upload files to your File Director server as follows:
When logged into

File Director

on Windows, save files to any writable location in your

File Director

folder.
Add files using the

File Director

Web Client.
Using the iOS app, by move or copy files from other providers.
Using the Android app, share files from file browsers and other apps.
You cannot upload files to read-only folders.
In this section:
Desktop clients
When logged in to a desktop computer with the File Director client running, save, paste, or drag files and folders into your File Director home folder or a shared map point. From there the files are automatically synchronized with the server and available from your other File Director devices and the web client.
You cannot upload files to a read-only map point.

Depending on your organization's settings, you can also add, copy, and move files to File Director using the mobile and web clients. Whichever client you use, you can access uploaded files from the File Director folder on your desktop.
If you lose connection, log out, or shut down your endpoint while uploading or downloading files, synchronization automatically continues on re-connection to the server. For uploads, when the upload has completed, content is merged with existing content, automatically cleaning up unused data.
Depending on your folder settings, all your File Director files are automatically downloaded, or they are individually downloaded as you open them.
File Director

Policy

Using File Director's policy settings, an organization can restrict who has access to File Director and what actions they can perform. For example, access can be restricted by platform, IP address, and Organizational Unit (OU).

Administrators can also apply policy settings to prevent users uploading files, printing, and copying data from mobile devices.

If you have any queries about your organization's policy settings, contact your IT Support department.
Android
Android downloads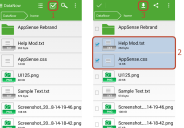 Download single files, multiple files or entire folders from the server to your device.
Navigate to the folder that contains the file(s) you want to download and tap the edit icon.
Select one or more files and folders to download.

Tap the download icon.

The selected files and folders are downloaded to the File Director folder on your device's SD card and are available from the History and Saved folders in your app.
Files downloaded using the File Director app are saved on your SD card in a file named File Director. The contents of this file mirrors your File Director folder. For example, if you download a file from your Home folder, a folder called Home that contains the file will be created in your File Director folder. When you log out from File Director, all downloaded files are removed from your device.
Restrictions on downloaded files may also be in place to ensure the security of corporate data. Policies can be applied to remove downloaded files from your device if:
You are not directly viewing them
You have exceeded the number of permitted unsuccessful login attempts
You have not logged in for a defined number of days
Your device has been rooted
Your organization can use any combination of the above.
Upload files from other Android apps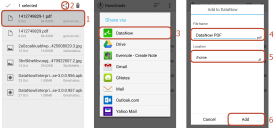 Compatible files can be uploaded from any file browser or app that has one of the following functions:
Share
Share via
Export
Send file
The feature works for any compatible file but does not work for links. The process below uses the example of uploading a file from the Download folder.
Locate and select the file you want to upload.

You can upload only one file at a time.

Tap the share via icon.
Tap

File Director

.
Rename the file if required.

Select where, in your File Director folder, you want to save the file.

If you want to create a new folder for the file, click the icon in the file explorer and enter a name.

Tap Add.

The file uploads to the server and is available on your other File Director devices and the web client.
iOS
How to files locally to view offline depends on whether you want to download single or multiple files.
Download multiple files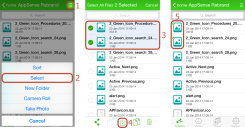 In the folder you want to download files from, tap the menu icon.
Tap

Select

from the menu.

Select the files you want to download.

You cannot download folders. To download the contents of a folder, open that folder and select the files within it.

Tap the download icon.

The selected files are downloaded. The files display the downloaded overlay and can be accessed from your history folder.
Download a single file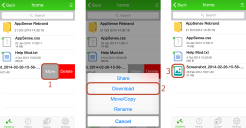 Swipe left on the file you want to download and tap

More

.

Tap Download.

The selected file is downloaded. The file displays the downloaded overlay and can be accessed from your history folder.
Related topics