Check the appliance status
Following a reboot, the Status page is automatically displayed. To view this page as required select Home > Status.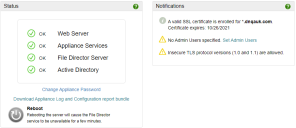 Status panel
The Status panel indicates areas of the appliance which are configured. It includes the following :
•Change Appliance Password- Click the link to open the Change Appliance Password dialog (File Director 2021.1).
If this is the first time the appliance is deployed, the Change Appliance Password is displayed automatically and the user is prompted to change the password before using the console or configuring networking. Historically (2020.3 and earlier), the appliance password could be set via the File Director text console only. Refer to Install and start the File Director appliance.
Note: The appliance password cannot be recovered.
•Download Appliance Log and Configuration report bundle - Click the link to download log data that can assist with Server-side auditing.
•Reboot - Click the button to reboot your appliance. A reboot is required before changed configuration settings are applied. Refer to Reboot the appliance.
Notifications panel
The Notifications panel warns if any areas require attention.
•Many notifications include a link to the screen or dialog where the issue can be addressed or configured.
•Where the notification refers to recovery from a problem, you are advised to download the appliance log bundle from the Status panel, and liaise with Ivanti Support for analysis and advice.
For example, where File Director is able to automatically recover from a memory-related issue, it will generate a heap dump. This snapshot of memory-related objects can be downloaded as part of the logged data and sent to Ivanti Support for review. Such analysis can provide valuable information on how to improve the performance of your system.
Next step...
Related topics