File Director

map points

A map point is an area in File Director that you can access on multiple devices. Map points display and behave in a similar way to folders on your devices, providing areas to download, upload, and share files. Multiple map point types provide different levels of access and different sets of actions.

You can identify map point types by their icons.

The Mac client icons do not differentiate between map point types
Map Point Type
Web
Windows
Mac
iOS

Shared

Full access to upload files, download files, share files, and create folders. The map point can be used by any user who is granted access by administrators.

Read-only

Files can be downloaded and copied.

Home

A map point to which only you have access. Within this map point you have full access to upload, download, create, and delete files and folders.

Shared by Me

Any files which you share with others are stored here.
N/A
N/A

Shared With Me

Files which have been shared with you are accessed from here.
N/A
N/A

Offline

The map point is temporarily unavailable. You can still work on local copies of any files, which automatically synchronize with the server when the map point becomes available.
The following graphic shows how a single File Director folder configuration displays on different platforms: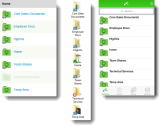 Related topics