Windows file transfer status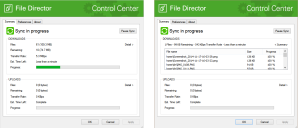 You can tell if a file has been downloaded by its icon, as follows:
Files that are available but have not downloaded are annotated with a gray arrow.
Files that have downloaded are annotated with a green check mark.
Files that are unavailable until you reconnect to the

File Director

server are annotated with a gray cross. See Files unavailable, below.
Download icons are only displayed if you have Highlight downloaded files selected in your General Preferences.
Example
A folder is set to Unsync. Five files have been added to that folder using the Web Application. When you open the folder on your computer, those files are displayed but have not been downloaded - as denoted by the grey icon. Files 1, 4 and 5 are subsequently opened and their icons are updated with the green check mark, showing that they have been downloaded on your computer.

If Sync is selected, all files in the folder are automatically downloaded and display the green check mark.
You can check the progress downloads and uploads by selecting File Transfer Status from the File Director menu. Click the Details link to see the progress of individual files. From this dialog, you can also pause and resume all sync activity.
Full synchronization
You can set File Director to perform a full synchronization when you log in. This is defined in the File Director settings, refer to Map point configuration for further information.
Files unavailable
User files are synchronized with the File Director server according to the schedule set up by your system administrator. If you log out of File Director or lose the server connection (due to network connectivity issues, for example), server files will remain visible to you in Windows Explorer but you will be unable to interact with them. Attempting to open, copy, rename or delete such files or folders will results in a warning message displayed in your system tray (within the Windows task bar).
Note, when offline, server-only files are indicated with a gray cross in Windows Explorer.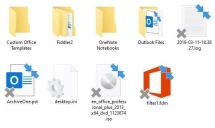 Related topics