About the Service Catalog
The OOTB Service Catalog displays service catalog items with an icon (optional), title, and description in card format.
Service catalogs can include:
Account Management: Pertains to network access and passwords.
Conferencing/Presentation: Encompasses conference setup, web sharing, projectors, and more.
Desktop Management: Covers end-user computer equipment and OS, anti-virus, and miscellaneous software.
E-mail/Calendaring: Contains email and calendaring software and account management.
Employee Support: Used primarily by HR and hiring managers to set up new employees, update their information, or request an employee separation task.
Enterprise Apps: Contains options for business software used by the organization.
IT Service Desk: Used primarily by an IT department to manage technology systems in the organization.
Network Services: Covers the network itself, both wired and wireless. It includes file sharing and backup/restore services.
Printing: Covers local desktop and shared network printers. Users can request access to network resources, request toner/ink, or request a local printer of their own, pending approval.
Telephony/Fax: Covers telephony equipment (desktop and mobile) and fax machines.
Web Services: Includes external (Internet) and internal (Intranet) requests.
The OOTB Service Catalog has a search feature that produces a list of suggested matches after typing three characters into the search box. You can search on the title and description of Service Catalog items. The drop-down list of suggested results shows up to five suggestions. Select the More link to view additional suggestions. Select the Search button or press Enter to view all search results.
The Cards with Search style was introduced to the OOTB Service Catalog in CSM 9.2.0. If you upgraded from a version of CSM after 9.2.0, you can implement the Cards with Search or Cards with Search v2 styling.
The number of columns adjust according to the size of the user's screen. When a user's screen size is small enough that only one column of cards is displayed, the card icon will be hidden.
Figure:  Cards with Search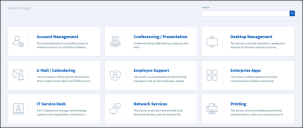 Figure:  Cards with Search v2