HR Case Management Portal
This HR Case Management Portal mApp® Solution is intended to be used with the Cherwell HR Case Management. The purpose of this mApp Solution is to simplify how end users interact with Human Resources organizations from the CSM Self Service Portal.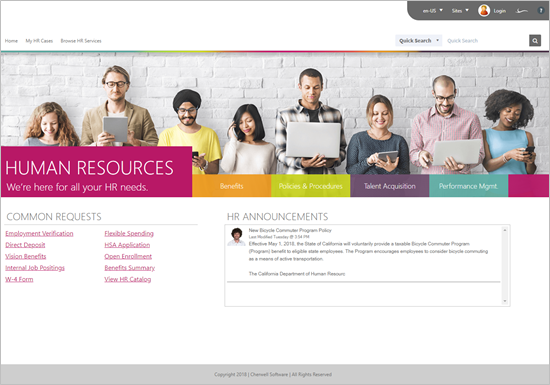 For a complete Enterprise Management Solution, you can also use the Corporate Portal mApp Solution which complements the look and feel of this portal and is intended to be a gateway for end users to access multiple departments across the enterprise.
The HR Case Management Portal is localized to English and Spanish. While Dashboards within this mApp Solution exist for German, French and Brazilian Portuguese, they have not been translated at this time and are currently in English.
How the
mApp Solution

Works

CSM provides this solution as a mergeable application (mApp) so that Users can easily incorporate this functionality into their existing CSM system. The mApp Solution includes the following items:
Item Category
Item
Typical Merge Action
Localization
Dashboards

HRV3-Catalog

HRv3-Home

HRv3-Enter

Import
English & Spanish
Themes

HRV3-Portal-Default-Forms

Corporate Portal Theme

Import
 
Images

Employees-Brick-Background-tiny colorful-stripe1

Office-Work-Team-Graphic

Green Button

Orange Button

Pink Button

Purple Button

Teal Button

Collaboration-Background

Conference-Background

Busy-Office-Background

Empty-Office-Background

Import
 
Widgets

HR V3 Catalog

HR V3 Catalog-Stored Value

Discussions HR

Import
 

One-Step Actions

Benefits Link

Policies and Procedures Link

Talent Acquisition Link

Performance Mgmt Link

HR V3 Catalog Link

Employment Verification Link

Direct Deposit Link

Vision Benefits Link

Internal Job Postings Link

W4 Link

Flexible Spending Link

Health Savings Link

Open Enrollment Link

Benefits Summary Link

Set-Customer-Country HR-Home-Link

Import
 
Stored Values

Stored Value - HR Catalog Category

Country Code

HR Customer Country

HR Supported Countries

Import
 
Sites
Human Resources
Import