Ivanti Neurons for GRC

Dashboards

Ivanti Neurons for GRC provides five dashboards for overview and at-a-glance metrics.
Compliance Dashboard
The Compliance dashboard is focused on providing information dealing with an organization's overall compliance and risk posture, as well as ongoing audit activities. This dashboard is primarily built for Compliance Managers or Governance department members.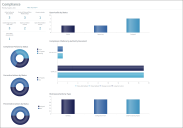 Security Posture Dashboard
The Security Posture dashboard aims to provide a Security Manager or Chief Information Security Officer (CISO) with an overall view of the organization's current risk assessments. The dashboard delivers real-time information on Events by Risk as well as a Really Simple Syndication (RSS) feed of all recently posted cyber threats from the United States Computer Emergency Readiness Team (US-CERT) website.

GDPR Citations Dashboard
The GDPR Citations dashboard provides an overview of GDPR-related Citations and Risk Assessments.
GRC Audit Calendar Dashboard
The GRC Audit Calendar dashboard shows actual and proposed audits in a calendar view.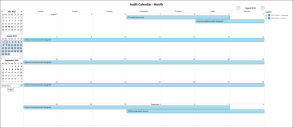 GRC Statement of Applicability (SoA) Dashboard
The SoA is a useful dashboard for everyday operational use because it displays comprehensive coverage of your organization's information security measures. The list of controls implemented provides understanding into risks accepted as well as risks avoided. A SoA can also be used to justify your organization's position during an audit.