Machine Learning Dashboard
The Machine Learning dashboard provides an area for machine learning subject matter experts (SMEs) to verify predictions, as well as other metrics related to the machine learning model.
The Machine Learning dashboard has an area for tickets with a low confidence categorization and tickets needing review to help you review predictions.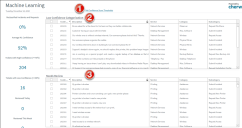 Select

Set Confidence Score Thresholds

to adjust Tickets with High Confidence and Tickets with Low Confidence widgets. The values should be between 0 and 1.
The low confidence threshold determines which Incidents appear in the Low Confidence Categorization grid.
The Incidents in the Needs Review grid have not had their Service Classification verified.