Quick Search Query Builder
The Quick Search Query Builder allows you to create a Quick Search query that does not use Relevancy ranking in the search results. The Quick Search Query Builder is dynamic and provides specific options based on the purpose of the Query you are creating.
Access the Quick Search Query Builder from multiple locations in CSM.
The Quick Search Query Builder behaves a bit differently from the regular Quick Search in that it uses the Query Builder functionality rather than the Quick Search functionality. Additionally, the Quick Search Builder in the CSM Browser Client behaves differently than the CSM Desktop Client.
The Quick Search Query Builder is composed of the following: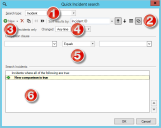 Search: Select the type of Business Object you want the Query to search.
Toolbar: Build the Query using these tools.
Open <Business Object> Only: Select the check box to view records that have not been resolved.
Changed: Narrow the timeframe associated with the Query.
Clause: Add a clause (Comparison, Group, Ownership, Related, Queue) to the Query.
Query: View the Query as you create it and reorganize the order of the Clauses as necessary.