Service Manager
Example: Using the Run Program Quick Action
This topic describes how to create a quick action that executes a file or script on a remote server.
1.From the Configuration Console, click Build > Automation Tools > Quick Actions to open the Actions Manager workspace. The list of business objects that have quick actions appears.
2.Click Add/Edit for a business object. The application displays the Quick Actions Center.
3.Click the Create New Actions tab.
4.Click Run Program. The application displays the Run Program Execution page.
5.Enter the name of the quick action, then enter information into the fields. See Run Program Quick Action quick action parameters.
Run Program Quick Action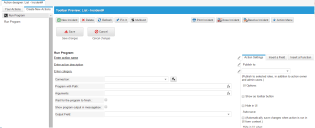 6.Click Save.