Service Manager
Using the Ivanti Self-Service Portal
•About the Self-Service Portal
About the Self-Service Portal
The Self-Service Portal is used by service requesters, this portal provides is an easy to use interface which enables users to create, track, resolve, and close incidents and requests for service. Self Service users can also access FAQs, announcements, and knowledge articles.
A service request is a request for a service, such as transferring an employee or requesting for a new laptop. An issue (or incident) is an interruption of service such as a printer not working or problem with internet services.
The Self Service Lifecycle
When you submit an incident or a service request, the system logs it with the Service Desk, where a Service Desk Analyst begins processing it. You can use the Self Service dashboard to track the progress of or add more information to a service request. You can also communicate with a Service Desk Analyst while the incident or the service request is being processed.
Self Service Lifecycle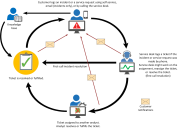 Self Service Tasks
The activities that you can perform in the Self-Service portal depends on the role with which you log in. Users who log in with the Self Service role can submit, track, and self-resolve incidents.
Self Service users logged in under other roles can also administer the Self-Service Portal, approve or deny requests for changes, control which services are made available to other Self Service users, categorize services, and define the process by which these services are fulfilled.