Service Manager
About the Self-Service Portal
When you log in, you immediately see the Self-Service Portal. The Self-Service Portal makes creating, solving, and closing issues and service requests easy. The Self-Service Portal is in the language that is specified in your employee record.
Self-Service Portal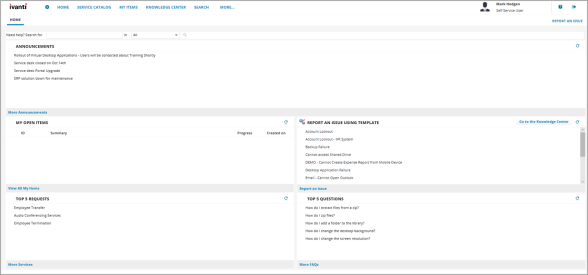 Self help information is available from the following locations:
Using the My Open Items Pane
Click an item from the list to view the item details. If your list is empty, you have no open items.
Reporting an Issue Using a Template
1.Click a relevant issue from the list in the pane.
List of Relevant Issues

The application opens the My Items tab where you can complete and submit the issue.
My Items Tab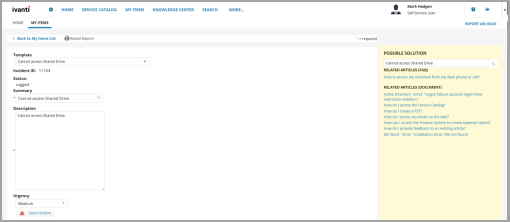 The application displays the possible solution pane, which lists any relevant knowledge articles. Click a title to view the article.
2.Enter information about the item.
3.Click Save Incident.
4.Click Back to My Items to see a list of your items.
Finding Information about the Top 5 Service Requests
1.To create a service request from the Top 5 Requests list, click the title of an item. The application displays a blank form. Each form is different depending on the type of item chosen.
2.Enter information into the fields on each page of the form.
3.When you are finished, click Review & Submit.  Review the information for accuracy.
4.If the information is not correct, click Edit and modify the information. If the information is correct, click Submit.
After you submit a request, the application displays the Service Request creation complete window.
Finding Solutions using the Top 5 Questions Pane
Click a relevant question or topic in the Top 5 Questions pane.
Top 5 Questions Pane

The FAQ tab appears, showing the details of the question you selected.
FAQ Tab