Using Forms
A form is a graphical view of record and field information. On a form, each field is represented by a field control and often a label. Forms can also have other components, such as images, to enhance their usability.
Forms are used to collect object data for storage and retrieval for use in dashboards, layouts, and reports.
Neurons for ITSM includes several default forms designed for common business needs. You can use these forms (including editing and deleting), or create your own using the Form Editor.
You can define a style for the overall form when creating or modifying a form. Styles applied to specific controls in the form supersede styles applied to the entire form.
Forms are found within each business object, under the Forms tab.
To view a form:
1.From the Configuration console, click Build > Business Objects.
2.Open a business object.
3.Select the Forms tab. A list of forms for that business object appear. For example, the Change business object has the following forms:
Forms for the Change Business Object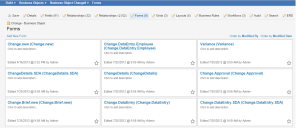 •Adding Fields with Multiple Choices (Radio Buttons)
•Customizing a Form with Images
•Using Expressions as Filters on a Form
•About the "Other" Form Controls
•Adding Related Business Object Lists to a Form
•About the Tab Order on a Form
•Request Form Examples