Configuring the Service Desk
Use the Application Setup - Service Desk Configuration page to define the access and workflow for information collected and acted upon by the service desk in your company.
Defining the Service Desk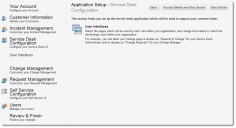 This is one step of the application setup process. For more information about this process, including how to access this page, see Setting Up the Application.
You can skip this step by accepting the defaults by clicking Accept Defaults and Skip Section.
Specifying User Access to Workspaces
Use this page to define which roles have access to which modules and workspaces.
1.Click User Interfaces. The application displays the Application Setup - User Interfaces page.
2.Select a role from the Roles column.  
3.To provide access to a workspace, do the following:
a.

From the

Workspaces

column, click

Edit

next to the workspace to provide access to.
b.

Next to

Hidden Expression

, click

<Not Set>

. The application displays an

Expression Editor

pop-up window where you can enter an expression that specifies when the workspace is visible to that role. Enter an expression such as

$(GetGlobal("FeatureA"))

and click

Save

.
c.

To provide a workspace button for the role, check

Initially visible

.
4.Repeat steps 2 and 3 for additional roles and workspaces.
5.Click Next to save your settings and go to the next page. See Setting Up Change Enablement.