Example: Canceling a Workflow that is Awaiting Approval
You can cancel a service request, change, incident, or other business object while it is in the pending approval state.
1.Log in to the Service Desk Console.
2.Open a workspace.
3.Open the record that is waiting for approval (pending approval).
4.From the Status field, choose Cancelled.
5.Click Save. The Cancellation Reason window appears.
Enter Cancellation Reason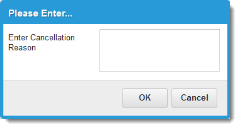 6.Enter a reason for the cancellation.
7.Click OK. The application cancels the request and terminates the approval workflow.