IPCM Voice Activity Workflow Block
IPCM Voice Activity Workflow Block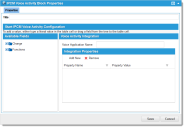 Exit Ports
| Exit Port | Description |
| --- | --- |
| OK | Continue to the next block. |
| Failed | General exit port for a failed integration action. A logical next step is to trigger a notification. |
Properties
Property
Description
Title
A unique name for the workflow block.
Voice Application Name
The name of the

Ivanti

Voice application.
Integration Properties
Creates integration properties. Click

Add New

to create a parameter to integrate with

Ivanti

Voice and

Neurons for ITSM

.
Property Name
The name of the parameter to define.
Property Value
The value for the parameter.
Actions
| Button | Action |
| --- | --- |
| Save | Commits your settings. |
| Cancel | Exits without saving. |