Voice
Ivanti Voice

Database Connection Settings

Although the Ivanti Voice database connection settings are configured as part of the Ivanti Voice installation, you can change the settings if needed.

To Use the Management Portal to Connect Ivanti Voice to the Database:

1.Select Start > Programs > Ivanti > Communications Management > Management Portal. The Enter Network Password dialog box opens.

2.Enter a user name and password with administrator privileges.

3.Click OK. The menu window appears.

4.Click System Configuration > Host > Database. The Database page opens.

5.In the Database Connection: Database (OLEDB Source String) field, enter the ADO connection string (in OLEDB format) in the text box.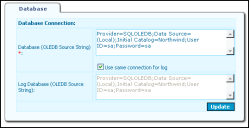 6.To use the ADO connection string for the Ivanti Voice log, click the Use same connection for log check box; the Log Database field is populated with the same ADO connection string.
The Ivanti Voice log is always stored in the database. The system can be configured to use the same database for all data (including log, statistics, etc.) or you can configure a separate database exclusively for the Ivanti Voice log.
7.Click the Update and Commit Changes buttons. Ivanti Voice connects to the database.
Ivanti Voice creates the database structure (including tables, constraints, indexes, and stored procedures) when you either restart IPCM or when the Aggregation Interval expires. If you enable the agent auditing functionality, the system writes agent audit data to the database after the agent changes states 500 times, or when the time you specify in the Aggregation Interval field expires. Refer to Statistics for information.
Refer to Ivanti Voice Database Details for information on the database structure.