Configuring Styles
To Configure a New Style or Reconfigure an Existing Style:
•Click the name of the style on the Styles page (Web Statistics > Settings). The Style Options page for that style opens, displaying a table with two columns: Style Option and Value.
•The Style Option column lists the formatting attributes the style uses. The last row in the column contains a drop-down menu that lists the formatting options the style currently does not use.
•The Value column lists the configuration parameter(s) of the adjacent formatting attribute, which differ for each formatting attribute.
For example, the following shows the Style Options page for the Chart header style.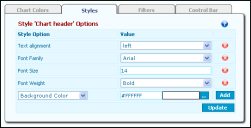 The text to which you apply this style displays on the Web Statistics UI as white, bold Arial font that is left-justified.
To Add a Formatting Attribute to the Style:
1.Select the formatting attribute from the drop-down list in the Style Option column.
2.Use the parameters in the adjacent Value column to configure the formatting attribute.
•If you want to use the Sound Style Option to add an audio alert to the style:
•Copy your .mp3 file(s) to the c:\Program Files\Ivanti, Inc.\IP Communications Management\WebStatistics\client\sound folder
•After selecting the Sound option from the Style Option list, in the File field type ..\sound\ followed by the name of the .mp3 audio file you want to use. For example, ..\sound\<filename.mp3>. Or you can use the web URL for the .mp3 file (i.e., http://www.mycompany.com/sounds/alert.mp3).
•In the Repeat Count field, enter the number of times you want this audio alert to repeat.
3.After selecting each style option and corresponding value, click the Add button. Ivanti Voice adds the formatting attribute configuration as a new row in the table.
4.When finished adding style options and values, click the Update and Commit Changes buttons to enact the changes.
To Change the Value of a Style Option:
1.Select an option in the Value column.
2.Click the Update and Commit Changes buttons to enact the change.
To Remove a Style Option:
1.Click the red x icon next to the style option.
2.Click OK to confirm the deletion.
3.Click the Update and Commit Changes buttons to enact the change. Ivanti Voice puts the deleted style option back in the Style Option drop-down list.