Web Statistics User Interface
Users access Web Statistics by clicking Start > Programs > Ivanti, Inc. > Communications Management > Web Statistics, and entering their Ivanti Voice login and password. To view the Web Statistics UI, Adobe Flash plug-in (version 8 or later) is required, and JavaScript support must be enabled.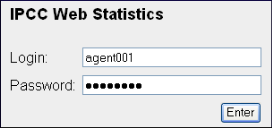 After logging in, the default view configured by the administrator displays. Users can use the View List option to select other views to which they have access.

The Web Statistics interface refreshes automatically whenever data changes.
If the connection drops, the Status field will indicate Disconnected. If this happens or if the screen freezes, users can click the Refresh icon to manually refresh the page:

The Status field should change to Running.
The interface has a Fit to Page check box that lets users condense the text and graphics so all of the data displays on the screen simultaneously, eliminating the need for scrolling.
The Mute check box enables users to mute the sound so alarms are not audible.