Pinning items
You can pin certain items to a watchlist (such as individual assets, purchase orders, Product Catalog items, and so on) that you want to access with a single click. You can pin items from many of the workspaces, but not all. The watchlist also includes links to items that you've recently created or updated.
To pin items to the watchlist
1.Select an item in a list, such as an asset in the Hardware Assets workspace.
2.Above the list, click the

icon. The item is added to the watchlist.
To access items in the watchlist
1.At the top right of the page, click Watchlist. The watchlist displays, listing all of the items you've added or recently created or updated.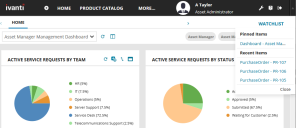 2.Click the required item to display it.
Remove items from the watchlist by clicking the x icon alongside the item you want to remove.