Delete Vendor / Product Categories
To delete one or more categories from the list, click the Manage Products icon and then select the Delete Vendor / Product Categories tab. It is a good idea to delete a category when you no longer support a product in your environment, or when the updates in a category no longer apply to the product versions you support. By default, none of the check boxes on this tab are enabled.
In order to delete categories, the user running Patch for MEM must be a full administrator with the security scope assigned to All instances of the objects that are related to the assigned security roles.
To delete a product or vendor category:
1.Enable the desired check box(es).
2.Click Delete Categories.
A confirmation dialog is displayed.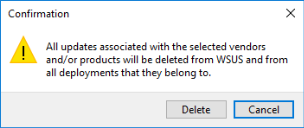 3.To confirm the deletion, click Yes. To cancel the request, click No.
When you delete a product category, the following actions are performed:
•All published updates for that product are expired
•The updates are removed from all deployments and deployment packages in Configuration Manager
•The updates are removed from all Software Update Groups in Configuration Manager
•The updates are deleted from WSUS
If you delete all of the products for a vendor, the vendor category will also be deleted.
The deletion operation is performed by a separate background process that begins immediately. The operation will continue even if you close Patch for MEM. The updates will be removed from the Published Third-Party Updates list as soon as they are deleted. You can monitor the progress of the operation by using the Configuration Manager Trace Log Tool to open the AutoPublish.log file.
The new state of the updates will not appear in the All Software Updates list in SCCM until the next synchronization is performed. After a synchronization, the updates will show as expired and are no longer deployable. The updates will remain in the All Software Updates list for several days until a background SCCM task removes them.
To get a deleted product category to reappear in the Manage Products dialog, you must publish one or more updates for that product. See How to Publish Updates.