Managing Alerts
This area is used to view and set your alert configurations. To access this area, within the Configuration Manager Monitoring workspace, expand the Ivanti Patch folder and then select Manage Alerts.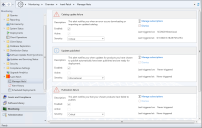 Use the following options to uniquely configure each alert.
•Enabled: Specifies whether the alert is enabled or disabled. If an alert is disabled, the Active check box will not be used and you will not receive any email notifications.
•Active: Specifies whether the alert is currently active. The Last triggered on field will show which console machine was affected, and the Last triggered at field will show when the alert occurred.
•Severity: Specifies the importance you want to place on this alert. The available options are:
•Informational: Indicates that an event has occurred.
•Warning: Indicates an event that could potentially interrupt service if left unattended.
•Critical: Indicates a configuration problem that is preventing Patch for MEM from working properly.
•Manage subscriptions: If you want to receive an email notification whenever an alert is triggered, click this link.
In order for this feature to work, Configuration Manager must be configured to allow email notifications. To do this: Within the Administration workspace, select Site Configuration > Sites > Settings > Configure Site Components > Email Notification. If authentication is required to use the SMTP server, be sure to provide the credentials on the General tab of the Settings dialog.
Use the Manage Subscriptions dialog to specify which email addresses you want to subscribe to this alert.

Alert notifications can be sent to one or more email addresses. The email alerts feature will be active as soon as you save your changes.
The email addresses you specify can be viewed by all other users on all console machines.
•Dismiss: Enables you to clear the active flag for an alert. When an alert is active, it will not generate another email until the alert is dismissed.