Applications: Overview
Summary: A high-level overview of the Applications page in Ivanti Neurons RBVM/ASOC/VULN KB.
The Applications list view shows all applications within the Ivanti Neurons RBVM/ASOC/VULN KB platform. You can only view applications assigned to you via group permissions.
Who can use the Applications page?
The ability to view the Applications page is available to users with the Core Read IAM privilege. The following IAM privileges are associated with the Applications page.
Application Modify: Modify application information, such as set application criticality and name, update CMDB, and add/update notes.

Application Control: Merge, create, and delete applications. Can change an application's network.

Application Group Assignment Control: Add/remove applications to/from groups.
Overview
Navigate to the Manage > Applications page.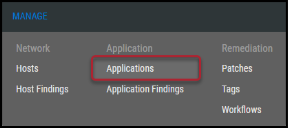 Filters: As with other pages in Neurons RBVM/ASOC/VULN KB, you can apply filters to the Applications page.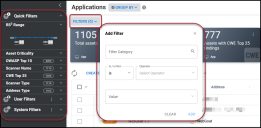 Group By: Click this button to sort the data using the Group By feature.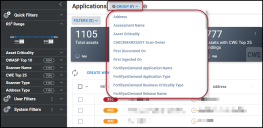 Key Performance Indicator (KPI) Bar: Provides quick KPI metrics based on your current view. These metrics can change based on applied filters, and each KPI tile can be customized with different information.

Refresh: Click to refresh the page and view any changes made.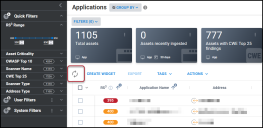 Create Widget: Click this button to use the User Widget feature.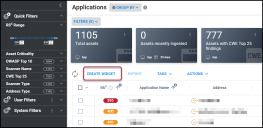 Export: Export row information for the selected application(s).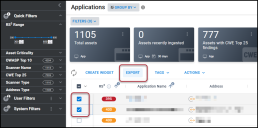 Tags: Use this menu to tag applications and create new tags.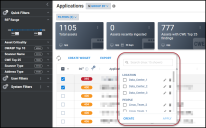 Actions: Click this button to view more options available for applications.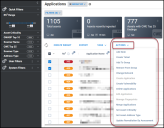 Column Settings Drop-Down List: Clicking the dots near a column heading opens the column settings. From this menu, you can change the sort, add fields to the sort, and add/remove columns from the list view.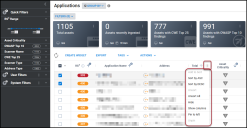 Single Column Sort: Columns can be sorted ascending to descending and vice versa by clicking the arrow. The arrow indicates the current sort order.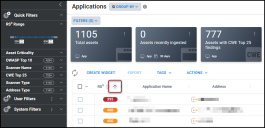 Page Settings: Click this button to save the current list view or copy the link to the current view.