Downloading a File from the Download Center
Summary: How to download a file from the Download Center in Ivanti Neurons RBVM/ASOC/VULN KB.
When a file is ready for download in Neurons RBVM/ASOC/VULN KB, access the Download Center by navigating to the Configuration (

) > Downloads page in the upper-right section of the screen.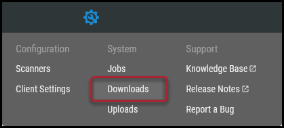 On the Download Center page, select the file to download by clicking the check box in the page's first column.

Click the Download button.

Your computer will prompt you to save the file.