Editing an Assessment
Summary: How to edit an assessment in Ivanti Neurons.
You must have the IAM privilege Assessment Control to edit an assessment.
To edit an assessment, navigate to the Organize > Assessments page.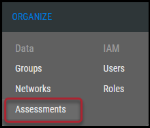 Select the assessment you want to edit by clicking the check box in the page's first column. (Note that you can only edit unlocked assessments. You can search for unlocked assessments by filtering on Status within the Quick Filters menu or the top filter bar.)
One you have checked the assessment that you want to edit, open the EDIT menu and select Edit Assessment.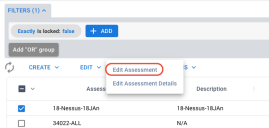 In the Edit Assessment window, you can modify the assessment name, assigned date, and description.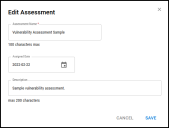 Once you complete your edits, click Save. This action updates the assessment.