Previewing Configurable Dashboard Widgets
Summary: How to preview a widget when using the Configurable Dashboard feature.
Users can preview dashboard widgets before adding them to custom dashboards. To preview a widget, navigate to the Dashboards > Configure page.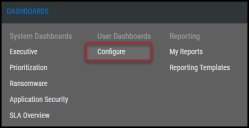 Open the Widget menu by clicking the Widget icon (

) in the left-most bar.
Click the question mark icon (

) on a widget to open the widget preview.

Clicking the question mark icon opens the widget preview. The preview shows the widget with sample data and provides a full description of its features.

To close the preview, click the X button (

) in the top-right corner of the window. To add the widget to a custom dashboard, click the Add to Dashboard button in the bottom-right corner of the window. This option is available only when creating and/or editing a custom dashboard.