Rejecting a Workflow
Summary: How to reject a workflow request in Ivanti Neurons RBVM/ASOC/VULN KB.
To reject a workflow, navigate to the Manage > Workflows page.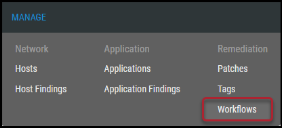 Find the workflow card you want to reject.

In the upper-right hand corner of the selected workflow, click the triangle button near Actions.

In the Actions menu, click Reject.
In the Reject Workflow window, add the reason why the workflow is being rejected to the User Notes box. Once complete, click Submit.
The workflow's State is now Rejected.