Reporting Templates: Overview
Summary: High-level overview of the Reporting Templates page in Ivanti Neurons RBVM/ASOC/VULN KB.
The Ivanti Neurons RBVM/ASOC/VULN KB platform has several report templates that can be generated based on your vulnerabilities and platform information. These metrics include vulnerabilities, risk, and remediation. This article reviews how to locate reports, generate reports, and understand the available templates.
Navigate to the Dashboards > Reporting Templates page.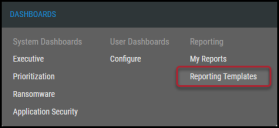 This page displays a variety of reporting templates for you to use, depending on the information you want to highlight.

Filter: Allows the user to filter for various report types.

Tags: Every report has a tag associated with it, designating the type of report it is:

(A) – Asset Report

(Re) – Remediation Report

(Ri) – Risk Report

(V) – Vulnerability Report

Report Type and Description: Describes each report type.

Create New Report: Click the plus button to create a new report.

Download Sample Report: Clicking this downloads a sample report type for evaluation. This sample report does not contain any client data.
Report Descriptions

Configure a Report
To configure a PDF report, navigate to the Dashboards > Reporting Templates page.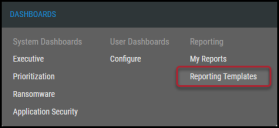 Click the Plus (+) button on the type of report to create.

The following list describes the elements of the Add Report Configuration window.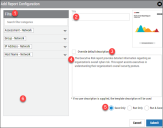 Filter: Allows users to customize data that appears in the report. Use the search bar to look for filter types or use the drop-down menus to select filters.

Title: The report's title.

Override Default Description: Check this box to modify the report description in the box below.

Report Description: Describes the report settings and may be customized by checking the Override Default Description box.

Save/Run Options:

Save Only: Saves the report to the account. The saved report is available on the My Reports page, where you can rerun the report again later.

Run Only: The report can be found on the Files > Download Center page but not the My Reports page. Use this option for reports that only need to be run once.

Run and Save: The report is saved on the My Reports page and can be downloaded from the Download Center (). Click the icon to go to the Downloads page or navigate to the Admin () > Download Center page from the top-right corner of the screen.
Fill out the Add Report Configuration window and click Submit. The report appears in the area designated by the Save/Run options. You can also find your reports under Analytics > My Reports