Resetting Your Password
Summary: How to reset your Ivanti Neurons password.
This option is not available for SAML logins.
Users can reset their passwords on the Ivanti Neurons platform login page if they know their username.
If a user does not know their username, contact support or the account manager to reset their password.
To reset your password, navigate to the Ivanti Neurons platform login screen.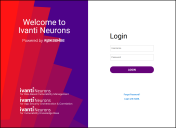 Click the Forgot Password? link under the Login button.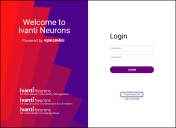 Enter your username into the text box and click Submit.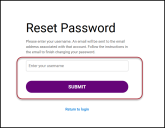 The Ivanti Neurons platform sends an automated email to the user containing a link to set a new password.
The link is only valid for 30 minutes. If the link expires, repeat the steps above to generate a new password reset link.