Setting an Active Filter
Summary: How to set an active filter in Ivanti Neurons.
To set an active filter on a data set, navigate to the page with the data you want to filter.
Click the Active Filter (

) button in the upper-left corner of the page.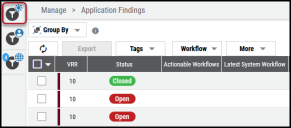 In the Active Filter panel, select your filter criteria. For more information about the filter fields, see Active Filters: Overview.

Click the Add button to apply the filter to the page.

Your added filter appears in the Active Filter panel. From here, you can continue to add additional filters to the page.
To clear active filters from a page, see Clearing Active Filters from a Page.
To save this filter, see Saving a Filter.