Setting the Default View
Summary: The article describes how to set or remove your default view for a page.
The default view defines columns, filters, KPIs, and other settings that should load when you first visit a page after logging in. This view also loads when you refresh the browser.
New users initially have the Client Defaults as their default view for each page. If you lose access to your default view or remove your current default view, your default view also reverts to Client Defaults.
Setting the Default View
To set a view as your new default, select a view without a Group By or a System view. Open up the 3-dot options menu from the card and select Set as Default.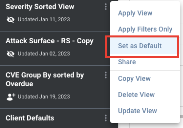 Confirm your new default by clicking SET DEFAULT in the dialog.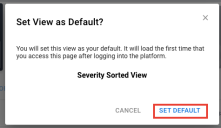 Removing a Default View
Open up the 3-dot menu on the view card. Select Remove Default. In the popup that opens, confirm your choice by clicking REMOVE DEFAULT.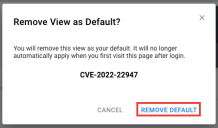 Your default view will revert to Client Defaults.