Filters: Overview
Summary: A high-level overview of Ivanti Neurons filters.
Filters provide Ivanti Neurons users with helpful ways of sorting findings and organizing scanner data. Using filters allows users to view pertinent information in Ivanti Neurons based on the filter criteria. Filters are available on just about every page within Ivanti Neurons, and Ivanti Neurons provides three different filter categories, as shown below.
| Filter Icon | Filter Type |
| --- | --- |
| | Active Filters |
| | Saved/Shared Filters |
| | System Filters |
These types of filters can also be found on the Hosts, Host Findings, Application Findings, Applications, and Dashboards pages, to name a few. These filters are used to sort through Ivanti Neurons data and narrow down results in various ways so that the user can succinctly find and target the findings or hosts they wish to review.
When filters are applied to a data set, they appear in the active filter bar next to the page breadcrumbs. This bar indicates that the provided criteria are filtering the data set. If this filter bar is not present, filters are not applied to the current data set.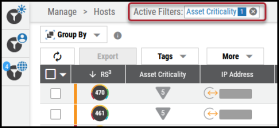 For more information on how to use filters, see Active Filters: Overview.