Unlocking an Assessment
Summary: How to unlock an assessment in Ivanti Neurons.
You must have the IAM privilege Assessment Control to lock an assessment.
Users can lock and unlock manually created assessments. When an assessment is unlocked, you can upload additional scan files into the assessment. You can also point to an unlocked assessment when creating a finding manually.
To unlock an assessment, navigate to the Organize > Assessments page.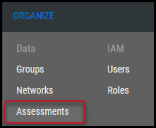 Select the assessment that you want to unlock by clicking the check box in the page's first column. Then choose Unlock Assessment from the Actions menu.

In the Unlock Assessment window, click Submit. This action unlocks the assessment.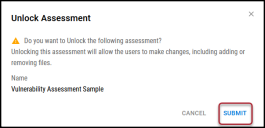 Note that after you upload files into the assessment, the assessment will automatically lock itself again.