About
Ivanti
Identity Director
Ivanti Identity Director provides your organization the means to fulfill virtually any conceivable user need. This can be access to an application, a printer or e-mail, the availability of a PC, laptop, mobile phone or lease car, but also changes to a computing environment as the result of employee onboarding, integration with other solutions to reduce service desk tickets, etc.
To fulfill these needs, your organization probably already has many business processes in place. With Identity Director you can automate and manage these processes by delivering them as a service.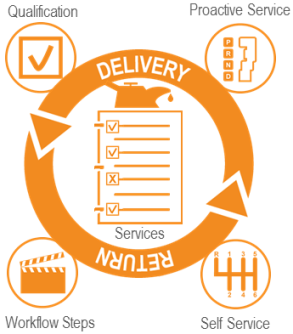 People qualify for services based on their identity and role within your organization. In turn, these services may depend on or be restricted by other services. This ensures that only the right services are delivered to the right people.
Services can be delivered and returned either automatically (identity- or time-based) or through self-service (access-based).

Ivanti

estimates that approximately 80% of all services in your organization are identity-based services.
In each service, workflow actions determine what happens during the delivery and return of the service. These actions can be approvals,

Ivanti

Automation

Run Books, request for information, etc.
| Service Type | Description |
| --- | --- |
| Employee Onboarding (Automatic) | Automatically provision and grant access to all necessary IT resources |
| Employee Offboarding (Automatic) | Automatically remove access and de-provision all IT related resources |
| Promotion (Automatic) | Revoke access and grant new access based on new role |
| Application Install (Self-service) | Install applications with optional approval process |
| Printer Access (Self-service) | Install appropriate print drivers and map printer |
| Collaboration Share Access (Request for others) | Grant other people access to specific network shares |
| Password Reset (Self-service and request for others) | Reset password and unlock account |
| Administrative Access (Temporary) | Add user to administrative AD group |