Use the Windows Client
The Windows Client is a desktop application that notifies users about their messages in the Web Portal. It also delivers Password Reset and Unlock Account functionality for the Windows logon screen. This application automatically starts when Microsoft Windows starts and is available from the Windows Notification area ('system tray'). The language in which the Windows client starts up depends on the user's regional settings of the operating system. The default language (US English) is used if no match is found.
The connection state of the Windows Client is indicated by the following notification area icons:
Failed to connect to the Mobile Gateway or the user cannot be identified as a valid

Identity Director

user.
Connected to the Mobile Gateway.
When connected to the Mobile Gateway and a notification arrives, the Windows Client shows a pop-up notification on the desktop. When the end user clicks this message, an instance of the Web Portal opens:

By clicking the Windows Client icon in the notification area, a window opens: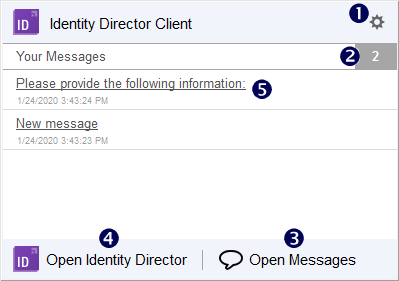 1 – Settings

Click the icon to view or change:
The connection settings to the Mobile Gateway
The connection status of the client
The URL to the

Web Portal

Whether you want the client to show notifications
2 – Number of messages

Click the number to open the messages in the Web Portal.
3 – Open Messages

Click the area to open the Messages section in the Web Portal.
4 – Open Identity Director

Click the area to open the Web Portal.
5 – Message

Click the link to the message to open it in the Web Portal. The client can show a maximum of 4 pending messages.