Security Controls
Data Rollup Options
The Data Rollup tab enables you to specify how this console will interact with agents and with other consoles.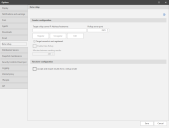 Enable Data Rollup

If you want this console to roll up and send its scanning and deployment data to a central console, enable this check box. The other options in this area are not available unless this check box is enabled.

This console's directory for spooling results

Specifies the directory that will be used to store results sent to this console by Security Controls Agent and/or by other consoles. The directory path cannot be changed. The directory will be:

C:\ProgramData\LANDESK\Shavlik Protect\Console\Arrivals

Send results to the Protect Cloud

If enabled, patch scan and deployment results will be periodically sent to Protect Cloud. If you are an Ivanti Empower user, the patch data will be periodically retrieved from Protect Cloud by Empower and the data can then be viewed within Ivanti Empower. You cannot send results to both Protect Cloud and to a rollup console; the options are mutually exclusive.

This option is only available if you have registered the console with Protect Cloud.

Rollup server IP Address/hostname

Specify the IP address or hostname of your Security Controls rollup console. The rollup console will receive scanning and deployment data that is rolled up to it from this console.

Rollup server port

Specify the port used by the rollup console to listen for incoming data from agents and other consoles. The default value is 3121.

Register

To enable this console to send results to the rollup console, click Register. This will establish a secure binding between this console and the rollup console.

TIP: The registration process will also automatically generate an entry in the Edit Database Description dialog on the central console. You can use this dialog to track how many remote consoles are configured to roll up their results to the central console. See Editing the Database Description for more details.

Minutes between sending results

Specify how often you want data from this console to be sent to the rollup console. Valid values are from 10 - 10080 (10 minutes - one week). The default value is every 240 minutes (four hours).

Although you can roll up data as often as once every 10 minutes, this is typically impractical. How often you choose to roll up data will depend on a number of things, including how often the console is performing scans and deployments, and how often you want that information reflected in the aggregate database on the rollup console.

Accept and import results from a rollup sender

If enabled, this console will act as a rollup console and will accept scan and deployment data that is sent to it from other consoles. In addition, the sending console(s) must register with this console in order to complete the data rollup configuration.