Console overview
The Ivanti Administrator console lets you perform network management functions from one location. From a single console, you can distribute and update software or configuration settings, diagnose hardware and software issues, deploy OS images and migrate user profiles, use role-based administration to control user access to both features and devices, use remote control features to train end users or resolve problems, and more.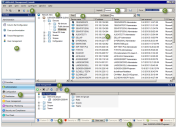 A Console toolbar, B Layout menu, C Core Server menu, D Tools, E Tool groups, F Network view, G Results list, H Find bar, I Tool panel, J Tools toolbar, K Tool tabs, L Status bar
The help topics in this section describe how to navigate and use the console to view and organize devices; and how to access the various management tools.
Getting complete up-to-date installation and configuration information
You can have multiple core servers and databases to accommodate your specific network management needs. For information on installing a Ivanti® Endpoint Manager core server and console, additional consoles, web console, and managing multiple core servers and databases, refer to the documentation hosted on the Ivanti User Community.
NOTE: The Ivanti User Community
The Ivanti User Community has user forums and best known methods for all Ivanti products and technologies. To access this valuable resource, go to: User Community Home Page