Management and Security powered by Landesk
About the Portal Manager
Ivanti Portal Manager delivers apps, documents, and links to end users so they can install items that are approved for use in your organization or required for that user's hardware.
When the end user launches Portal Manager, it synchronizes with the policy server. If there are any required policy-based tasks that haven't yet run on the user's device, these tasks are initialized without any further action from the end user.
The end user can also choose from recommended and optional policy-based tasks that have been added to Launchpad.
When an end user opens the Portal Manager, the following dialog displays the available options.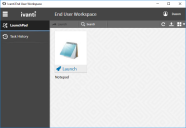 Installing the Portal Manager
The Portal Manager is installed as part of an agent configuration that you define and then deploy to managed devices. You also need to configure agent settings for Portal Manager before deploying the agent.
NOTE: To implement the Portal Manager on a managed device, the device must have Microsoft .NET 4.0 installed. You can install this as part of the agent deployment process. If you don't want to require .NET 4.0 to be installed, use the legacy Desktop Manager, which doesn't have this requirement.
Related topics
Configuring the Portal Manager
Adding applications to the Portal Manager
---
Inaccurate
Incomplete
Not what I expected
Other