View installed products for a computer group
All discovered products are initially found on the Products>Discovered page, which can quickly add up to too many records. You can move software to the Monitored or Ignored views for those products you want to monitor actively or for those you don't care about right now.
To view an even smaller group of product records, you can use computer groups. Remember, you initially create computer groups in the Endpoint Manager network view. When you define a computer group in the software license monitoring console, you're simply choosing a name to associate with an existing device group or query. For more information, see Defining a computer group.
To view the installed products for a computer group
Click Products, and then click a product view (Monitored, Discovered, Ignored, or All installed products).
In the column to the left of the product list, click Computer group and select a computer group.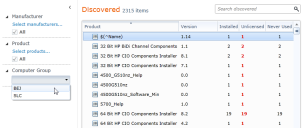 The list of products changes to display only products that are installed on devices in the group you selected.