Management and Security powered by Landesk
Using the Scheduled tasks window
Use the Scheduled tasks window to configure and schedule scripts you've created. Schedule items for single delivery, or schedule a recurring task, such as a script task to regularly search for unmanaged devices.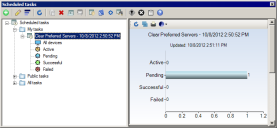 The Scheduled tasks window is divided into two halves. The left half shows task tree and tasks, and the right half shows information specific to what you've selected in the tree.
Left pane

The left pane shows these task groups:
My tasks: Tasks that you have scheduled. Only you and

Endpoint Manager

administrative users can see these tasks.
Public tasks: Tasks that users with the "Edit public" right have marked public.
All tasks: Both your tasks and tasks marked common.
You can drag scripts onto the Scheduled tasks window's left pane. Once a script is in the left pane, you can configure targets for it by dragging devices, queries, or groups to the right pane.
Tasks also have a right-click menu that you can use. The right-click Start now menu option has these choices:
All: Runs the task on all targeted devices.
Devices that did not succeed: Runs the task only on targeted devices that tried to complete the task but weren't successful.
Devices that did not try to run the task: Runs the task only on targeted devices that didn't try to run the task, such as devices that were powered off or not connected to the network.
Waiting or currently working: Runs the task on devices that are in a waiting or currently working state. This is useful when devices are stuck in one of these task states and you want to try the task on them again.
---
Inaccurate
Incomplete
Not what I expected
Other