General settings for a report
You can configure the general settings for each report from the General branch on the Report tree.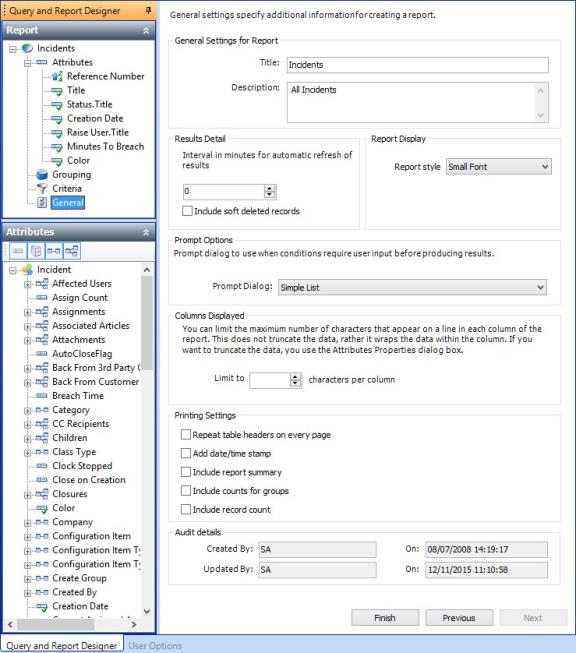 These include:
The style sheets used with these reports are stored locally on each computer. If you know how to modify style sheets, you can configure the appearance of your reports further. However, as the style sheets are stored locally, only you will see the changes reflected in your report. The Query and Report Designer uses style sheets in a different way from how web pages use cascading style sheets, that is, each time a report is generated, it takes the information from within the style sheet and adds it to the report, rather than the report and style sheet being dynamically linked. This means that changes to the style sheet are reflected on any subsequent reports, however, the appearance of existing reports remains unchanged.
Whether you want to show items that have been soft deleted
Whether you want to display the top 'n' records only.
The number of characters that appear per line in each column. This does not truncate the data, rather it

wraps

the data within the column.
If you want to truncate the data, on the Report tree, click Attributes. Right-click the relevant attribute, then click Properties on the shortcut menu. The Attribute Properties dialog appears. Click the Appearance tab, then select the Truncate to check box and specify the character limit. Click OK on the Attribute Properties dialog to save the changes you have made.
Whether you want to display the table headers on each page.
Whether you want to add the date and time the report was generated to the report.
Whether you want to include the report summary on the report. This details the criteria used to create the report.
Whether you want to include counts for groups.
Whether you want to include the total record count at the end of the report.
---