Audit Management: Software Audit
This topic applies to systems using an Asset Manager or Universal license only.
The Software Audit process enables you to complete a standard software audit.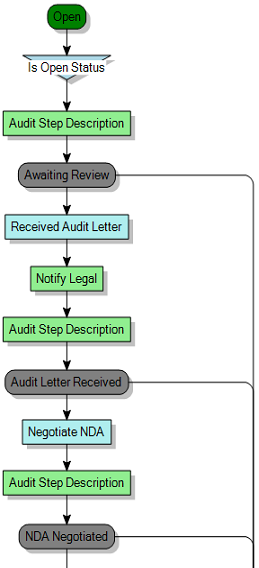 continued below...

When you start a Software Audit, you can enter an Audit Summary, Details, and Effective Date for the audit. You can also add a Description for the Terms and Conditions. All other fields are read-only and are completed during the lifecycle of the process. When you first save the Software Audit, the process moves to the Awaiting Review status, and the Audit Step field updates automatically to show the next step in the process.
At each step of the process, you can Cancel the process, which moves it to the Canceled end status.
From the Awaiting Review status, the Received Audit Letter action adds a reminder to notify the originator and assignee, and updates the Audit Step with information about the next step of the process.
Each step of the process includes optional actions that enable you to add the appropiate information to the audit and updates the Audit Step with information about the next step to take.
Finally, from the Outcomes Negotiated status, you can Complete the Audit, which enables you to record the Final Outcome, Compliance Status, Final Outcome Score, and Final Monetary Outcome.
Compliance Status and Final Outcome Score are Audit Management reference lists that you can edit using the Administration component in Console. See also Reference lists.
Optional actions for each status:
Status

Optional actions

Open

Add Assignment
Add Note
Add Task

Awaiting Review

Add Attachment

Audit Letter Received

Add Note
Attach Software Product
Create Software Product
Detach Software Product

NDA Negotiated

Add Assignment
Add Note
Add Task

Audit Terms Negotiated

Add Assignment
Add Note
Add Task
Attach Software Product
Create Software Product
Detach Software Product

Reports Run

Add Assignment
Add Note
Add Task

Reports Sent

Add Assignment
Add Note
Add Task

Outcomes Negotiated

Add Assignment
Add Note
Add Task

Closed

None
---