Human Resources: Change Request
The HR Change Request process is best used if you have made the users in your system versionable. You can then use this process to manage changes to users – for example, salary or role changes.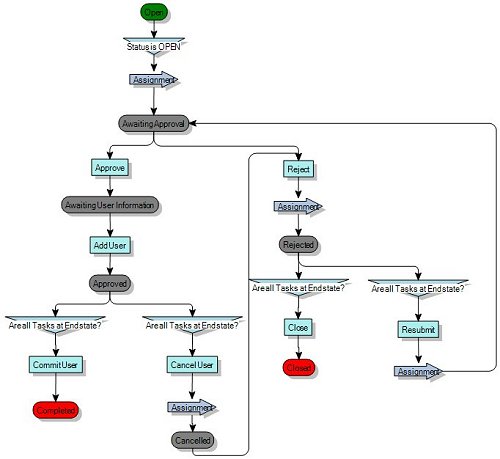 After logging the Change Request, it is assigned to the HR group where it is either Approved or Rejected. When the Change Request has been Approved, you can add the affected user(s) to the Change Request. If the Change Request is Rejected, it can either be Closed or Resubmitted after further information has been added.
After all of the Tasks for the Change Request have been completed, you can save the changes for the user. This enables you to update the user record directly.
Optional actions for each status:
Status

Optional actions

Open

Add Attachment

Awaiting Approval

Add Attachment
Add Note
Add Task

Awaiting User Information

Add Attachment
Add Note
Add Task

Approved

Add Attachment
Add Note
Add Task
Add User
Commit All Users
Detach User

Canceled

Add Attachment
Add Note
Add Task
Add User
Detach User

Rejected

Add Attachment
Add Note
Add User
Detach User

Completed

None

Closed

None
---