Software Library page: General tab
The General tab on the Detail panel of the Software Library page displays the general properties for the selection made in the Selection panel at the top of the page.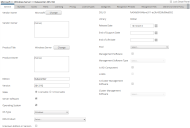 For some Vendor or Product records only a few properties are available, so in these instances the General tab is the only tab in the Detail panel that is accessible, as the other tabs are not relevant for these types of records.
You can mark a selection as Cluster Management Software by selecting the Cluster Management Software check box then selecting the type in Cluster Management Software drop-down list.
If a software title is Software as a Service, select the check box Is SaaS Software.