Creating a new scenario model: Result stage
To see the results of a scenario, click Run at the Result stage.
As scenario modelling uses the reconciliation process, the time required to calculate a scenario can vary between a few minutes and a few hours.
License Optimizer uses a current reconciliation (if one exists) or generates a new reconciliation as a baseline for the scenario model.
License Optimizer then runs a new reconciliation using the modelled values in order to determine the output.
Results are show across the following categories:
Cost to Service Upfront
Costs of Service Recurring
Cost of Change
Compliance
License Cost
Exposure
Shortfall
Surplus
Cost Analysis
Asset Value
Potential Savings/Costs over 12 months
Budget vs Scenario calculated costs
These categories appear as tiles that you may expand to display graphical information and data relating to the scenario model.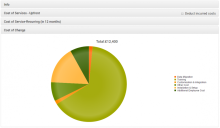 The Info tile contains an Export to Project button, which you may click to create a new project entry in the Project Tracking page. This enables you to view scenario key metrics such as hardware count or software count, and also enables you to track a scenario using real data if the scenario proceeds to implementation. For more information on the Project Tracking page, see Project Tracking.