Comparing reconciliations
This section describes how to compare two full reconciliations to help you to identify any trends.
To compare reconciliations:
1.Click Reconciliations under Reporting on the menu bar.
The Reconciliations page appears.
2.Click the Reconciliation Compare button above the data grid.
The Reconciliation Compare dialog appears., which enables you to compare between two reconciliations.


3.Select the two snapshot dates that correspond to the full reconciliations you want to compare, then click Compare.
The Reconciliation Compare page appears, showing the reconciliation comparison data.

The dashboard sections on the page provide comparison data related to:
Overall Compliance
Overall Liability
These sections summarize the position of the major vendors, and link to the underlying data. Clicking the links at the top of each section displays the Reconciliation Compare pivot tables.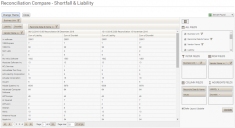 You can use the pivot tables to validate that there are no spikes in data and to identify trends. You can modify them and summarize data in different themes, and export the table to Excel by clicking the Excel icon.
To switch between themes in the Reconciliation Compare pivot tables, click Change Theme. The Reconciliation Compare dialog appears, enabling you to modify the comparison dates and select a different theme:
Shortfall & Liability

Financial Data

Install Count

Hardware Info

Entitlement
To close the Reconciliation Compare pivot table page and return to the Reconciliation Compare page, click Close at the top of the page.