Managing users
Administrators can manage and create system users with specific permissions using the Manage System Users page. To access this page, click Manage Users on the gears menu alongside the Account details section at the top right of the page.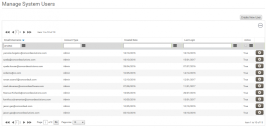 Creating new system user accounts
To create a new user account:
1.On the gears menu alongside the Account details section at the top right of the page, click Manage Users.
The Manage System Users page appears.
2.Click Create New User.
The New User dialog appears.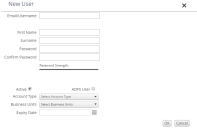 3.In the Email / Username field, enter the e-mail address of the new system user.
When the new system user account is created at the end of this procedure, License Optimizer e-mails a link to License Optimizer, the username, and a temporary password to this address.
4.Enter a First Name and a Surname.
5.Enter a Password and re-enter this in the Confirm Password field.
The user must change this password when they first log in.
6.If you want to create the account but make it initially unavailable, clear the Active check box. Leave this check box selected if you want the account to be immediately available.
7.In the Account Type list, select Admin or Standard User.
The permissions pane appears.

If you select Admin, all permissions and business units are available to the new account and the user can amend permissions or business units.
If you select Standard User, you need to set permissions and select the required Business Units for the new account.
8.If required, enter an Expiry Date for when the account will be removed.
The user is informed of the expiry date for their account when it is created, a day before the expiry date, and when their account expires.
9.Click OK.
The user is created and an email is sent to the address supplied that contains a link to License Optimizer, and their temporary credentials.

Unlocking user accounts and resetting passwords
If a user enters their password incorrectly too many times, their account is locked for 30 minutes. However, License Optimizer administrators can unlock any locked accounts by selecting Unlock from the in-line gears menu for the affected user.
To reset the password for the selected system user account, click Send Password Reset to User.

Activating or deactivating system user accounts
Deactivating a system user account does not delete it from the system, because it may have associated actions and ownerships linked to it that are critical for accurate calculations and auditing. Instead, deactivating a system user account makes the account inactive, preventing anyone from logging in using the account.
You can activate or deactivate accounts by selecting Activate or Deactivate from the associated in-line gears menu.