Creating a dashboard in one easy procedure
Xtraction's Dashboard Designer is the tool you'll use to create real-time, interactive dashboards of your target data sources' extracted data. Follow this procedure to create a basic dashboard for one of your connected data sources. You must have a designer role in Xtraction to create dashboards.
1.Open the Dashboard Designer by clicking the

icon in the toolbox left of the navigation pane.
2.Click File > New to open the Dashboard dialog.



3.Under the General tab, enter a descriptive title for the dashboard. Also select the layout for how this dashboard will display in the design canvas. Generally, the one-over-two pane layout is recommended. Each pane in the layout can contain one data component.

All other tabs in this dialog are optional. For details, see Dashboard Designer.
4.Click OK.
5.To select the data source for this dashboard, click the

icon in the toolbox left of the navigation pane.



6.In the Select Data Source dialog, scroll down the list of available data sources and select one to connect to. Click OK.

7.Now you're ready to add data-source content to the empty panes of your dashboard layout:
• Scroll down and expand the navigation pane's components list until you find content you want to view in the form of graphs, charts, lists, or images.

•Drag and drop that content into one of the panes. Each pane can contain one component. To change the content in a pane, just drag and drop a new component on top of the current one. Note that when replacing a component in a pane, ensure that you release your cursor in the pane and not on the pane's heading, which will cause the action to fail.


8.Drill down into the displayed content:
•To temporarily filter content based on a single data point in one of the panes, hover over that data, then click and select Filter Components (Replace). The data in each pane will refresh to display the filtered information. To clear a temporary filter, click the

icon in the header.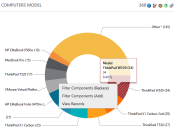 •To view the content of a pane in greater detail, hover over one element of the data, then click and select View Records. A new page will display, listing all records associated with that particular data. You can drill down even farther by opening an individual record in the list.

To save the dashboard to a folder of your choice, click File > Save.
Need more details?
For other dashboard-related info, see Dashboard Designer.
For more about components, see About components.