Alert Configuration
Use this page to configure notifications for Ivanti Standalone Sentry alerts, such as email address to which notifications are sent.
Figure 1. Alert configuration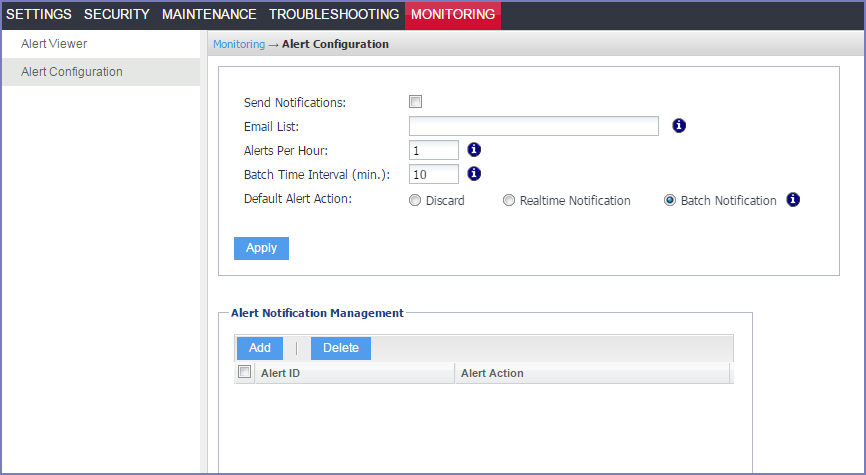 Configuring Sentry alert notifications
Sentry alert notification is configured in the Ivanti Standalone Sentry System Manager in Monitoring > Alert Configuration.
Procedure 
1.

In the Sentry System Manager go to

Monitoring > Alert Configuration

.
| | | |
| --- | --- | --- |
| | 2. | Use the guidelines in the table to configure notifications. |
Item

Description

Send Notifications

Select the checkbox to enable alert notifications.

Email List

Enter the email address to send the alerts.

Enter multiple email addresses as a comma separated list.

Alerts Per Hour

Enter a number.

This is the number of alerts in an hour that can be emailed to you.

For example, if you enter the number 1, you will get one alert once every hour. If there are more than one alerts for that hour, only the first alert is emailed to you. Subsequent alerts within the hour are not emailed. The clock is reset at the top of each hour.

Batch Time Interval (min.)

Enter a number.

Batch notifications are emailed at the interval set in this field.

Default

Select the default action for email alert notification.

The default action is applied to alerts that do not have a specific email notification action configured.

Discard: An email notification is not sent for the alerts.

Realtime Notification: Email notification is sent immediately after the alert. Apply this action to alerts that require immediate attention.

Batch Notification: Alerts are combined into a single email notification. Use batch notification for non-critical alerts.
You must also configure Email Settings in the Sentry System Manager to receive alert notifications by email.
Managing alert notification
Configure a notification action to a Ivanti Standalone Sentry alert in Monitoring > Alert Notifications in the Ivanti Standalone Sentry system manager.
Procedure 
1.

In the

Alert Notification Management

section, click

Add

.
2.

In the

Add Alert ID

pop up, enter an

Alert ID

.
| | | |
| --- | --- | --- |
| | 3. | From the drop down List, select a notification action. |
| | |
| --- | --- |
| Item | Description |
| Discard | A notification is not sent for the alert. |
| Realtime Notification | Alert notification is sent in real time. Apply this action to alerts that require immediate attention. |
| Batch Notification | The Alert is batched into a single notification. Apply this action to non-critical, but important alerts. |